Work
=================================
Art & Language - Now They Are Surrounded: Reconfigured
with Chris Smith and Annie Spinster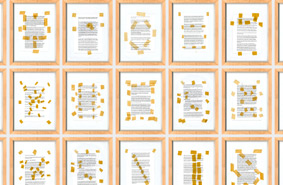 The work 'Now They Are Surrounded' consists of 144 canvases each measuring 26cm × 31cm. On the surface of each canvas is depicted a page of text that has been torn or cut in some way and then repaired with rather mangy Sellotape. In other words, the work consists of 144 pictures. The pictures are framed and glazed in such a way as to leave a small gap between the edge of the canvas and the frame. In addition, in this exhibition, there is an interactive projection that consists of the 144 pictures that can be reconfigured in multiple ways.
The exhibition is offered as an 'essay like' contribution in regard to the Symposium, 'Systems Art'.


Paper: Chris Smith / Art & Language - Now They Are Surrounded: Reconfigured
Discuss this paper here
=================================
Neil Ferguson - 16000 Paintings as a Sequence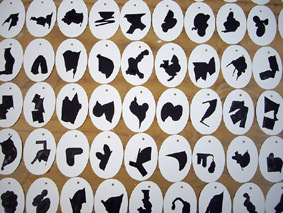 This extensive series of works follows on from other large series of drawings produced during the Imagine/Image project with the Fondazione Baruchello examining the contemporary role of the image.
The exhibition displays sixteen thousand small silhouette paintings that follow strict rules.
The series began in January 2006 as a system of accessing "wee thoughts" from readings of previous drawings and sketches, whereby the series might grow to become larger than Picasso's Guernica.
Every piece is both outcome and possibility. By conforming to identifiable rules, images emerge sequentially resembling a conversation around certainty and uncertainty.
Through narrowing possibilities of choice, a platform for imagining is established that allows feeling, sensing and reacting to take place.
The system forms a language.
Paper: Neil Ferguson - 16000 Paintings as a Sequence
Discuss this paper here